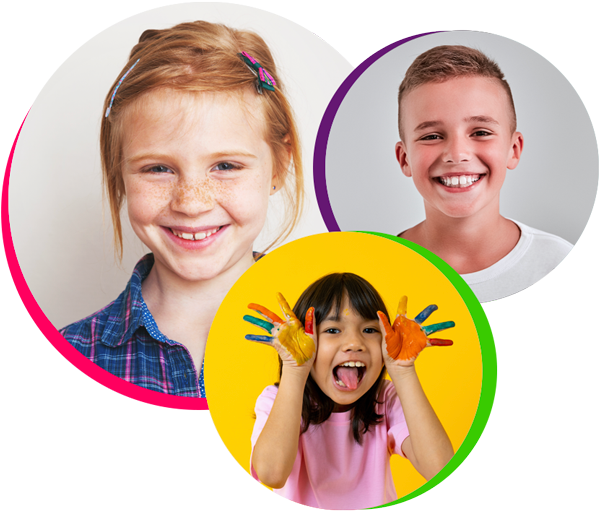 At Lovett Dental Humble, we want to help your little one develop proper dental health habits early on. Our pediatric dentistry specialists and our friendly team love each little smile that comes through our door, and it's our goal to create a fun, educational, and comforting experience that positively affects the way your child feels about visiting the dentist.
It is always our goal to create healthy, happy smiles for each and every patient we see. We believe that a healthy mouth leads to a healthy body and a healthy life!
Pediatric dentists are specialists in treating the unique needs of children. Our pediatric dental specialists have completed several years of specialty training beyond dental school. They limit their practice to treating the oral health needs of infants and children through adolescence, including those with special health needs.
Children have special dental needs, from birth through their late teen years. These special needs require the expert care of a dentist specializing in children's oral health and development. Our family dental practice provides this specialized treatment, ensuring your child's best chance for an attractive, confident smile.
Pediatric Dentistry
Welcome to Lovett Dental Humble, your pediatric dentistry. We are a family dental practice that offers specialized dental care for children starting at infancy and up through their teenage years. As your child grows and develops, help them maintain proper oral health with a visit to our dentist. We provide dental cleanings and checkups for all ages. Find out more about what you can expect when you visit our family dentist for your pediatric dentistry services.
What Is Pediatric Dentistry
Pediatric dentistry is a gentle form of general dental care that is geared at younger patients. We provide children's dentistry for children of all ages who have oral healthcare needs. Our goal is to help prevent tooth decay and tooth loss by offering tooth cleaning and oral health services. We use safe X-rays and dental equipment to ensure our youngest patients are at ease and comfortable.
Thanks to the friendly and warm environment available to you and your child at our pediatric dentistry, you can feel at ease when visiting. We strive to make going to the dentist as fun and exciting as possible, so your child grows up loving the dentist. We find this is key to helping maintain long-term oral health habits. Also, if your child has an oral emergency, they will be more at ease when visiting the dentist for emergency dental treatments.
The Best Family Dental Practice
We recommend that you bring your child to the dentist at Lovett Dental Humble as soon as they start to show their first teeth. Once the first teeth erupt, dental care can begin. We start with an oral exam to see how your infant's teeth and gums are developing. We will also help you learn how to properly clean and maintain their gums and teeth as these teeth continue to emerge over the years.
Dental Exams for Children
An annual dental exam that includes a routine checkup and tooth cleaning is recommended once your child is approximately preschool age. This is typically when children have most of their baby teeth. If your child has specialized oral healthcare needs, such as missing or chipped teeth, we offer supportive services to maintain their smile. When your child has oral healthcare needs, you want to get them assistance for them as soon as possible. This helps protect against tooth decay and gum loss caused by missing or decaying teeth. Also, if your infant is suffering from decay related to using a bottle or pacifier, we have solutions to help them improve their oral health habits and protect their teeth and gums.
Specialized Children's Dentistry
Here at our pediatric dentistry, we provide root canals, dental implants, crowns, bridges, and veneers, too. This comprehensive suite of dental care services allows you and your family to save both time and money. If your child is in an auto accident, injured when playing sports, or suffers a traumatic oral injury, we can help bring their smile back. This involves dedicated dental services from our pediatric dentist local to you.
Make an Appointment at Our Family Dental Practice Today
To get started with proper oral health care for your infant, choose our children's dentistry. We offer several forms of specialty care. These include pediatric dentistry, as well as orthodontist, periodontist, maxillofacial surgeon, and endodontist services. Contact our office today at 281-441-9000 to request additional information and schedule your pediatric dentistry appointment.