Have you been told it is time to see the orthodontics team? It can be worrisome to know that you need extra help with improving your smile. But, it does not have to be a challenge. At Lovett Dental Humble, we offer a wide range of orthodontic services that can fill each one of your goals. We encourage you to learn more about how we can help you straighten your smile through our specialty dental services.
Do You Need Orthodontics?
Not everyone will need to work with an orthodontist. However, more people do than you may realize. Our goal at Lovett Dental Humble is to provide services that you need that could improve your oral health and smile. Orthodontic services can often do that if you have: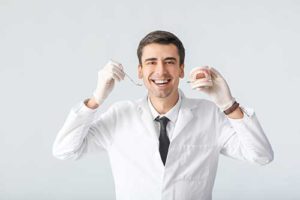 Misaligned teeth
An overbite
An underbite
Teeth that overlap each other
Gaps in your teeth
In these situations, our orthodontic services will provide you with opportunities to fix the underlying cause of the problem. For many people, this means the use of dental braces.
What Type of Orthodontic Services Can Help You?
The key to remember is that braces have come a long way over the last few years. You will find some traditional products available, as well as some outstanding advancements that can significantly improve your smile quickly.
Also, note that braces are not just for children any longer. You can help improve your smile and see a significant improvement in your teeth alignment even as an adult with these tools.
Traditional Metal Braces
One of the options we offer is the traditional metal braces. They are made from high-grade stainless steel. They are applied and then remain in place for a period of time while we tighten and adjust them to correct your teeth' alignment.
Clear Braces
Often made of ceramic material, clear braces are much more difficult for others to see. These are still very effective. They can help give you a bit of an aesthetic appeal to them – you do not have to worry about your smile during the treatment.
Clear Aligner Trays
The newest option and the one we often encourage because of how fast and effective it can be is clear aligner trays. These trays are positioned in the mouth to adjust the alignment of the teeth. They work gradually and generally without any discomfort. They can also be removed to properly clean your teeth or when you do not want others to see them. Over a period of time, the teeth will improve.
To determine which of these orthodontic services are right for you, schedule a consultation with our professionals. Then, let us offer recommendations and let you see the various orthodontic services we can offer to you.
Benefits of Orthodontic Services
There are multiple benefits of orthodontic services at Lovett Dental Humble. Some of these benefits include:
Improved dental hygiene – Crooked or misaligned teeth trap food particles and bacteria that cause further dental damage. When you choose to fix your smile with our orthodontist, you are choosing the best oral hygiene for yourself.
A more appealing smile – When you meet new people, they tend to look at your smile. When you have straightened teeth, your smile can light up a room.
Higher self-esteem – When you feel confident about how your teeth look, you tend to have higher self-esteem. Our Lovett Dental Humble orthodontics can help achieve this goal.
Better chewing and talking – When teeth are misaligned, it causes great pain, especially when chewing or talking. Orthodontic services from Lovett Dental Humble can help you find relief from this type of pain.
Dental Services at Lovett Dental Humble
To find out if you should seek out orthodontics in Humble, TX, we encourage you to work with our other dental team members. We may recommend other treatments first to ensure your teeth are healthy and in the best possible condition for treatment. This may include working with:
When you are ready for orthodontic treatment, we will schedule a time to help you learn much more about the braces we offer and the wide range of improvements you may see.
Choose Your Best Smile with an Appointment at Lovett Dental Humble
When it comes to orthodontic treatments, our team at Lovett Dental Humble is here to help you. Orthodontics is a growing and changing field, one that can provide for all of your needs. However, our team of dental experts can provide much more than orthodontics. Whatever dental services you or your family need, we have professionals with years of experience providing that dental service. Also, because we are a full-service dental practice, we save you from having to drive your family to different dental appointments all over town.
If you are ready for orthodontic services in Humble, Texas, reach out to our team for an appointment. Contact us today at 281-441-9000, or contact us online for help.