General dentistry in Humble, TX plays an important role in your family's dental health. At Lovett Dental, we strive to keep your family in smiles all day long. Our staff is friendly and experienced, and our service is always top-notch. When you need a Humble, TX general dentist, we're ready to answer all your questions.
The #1 General Dentistry in Humble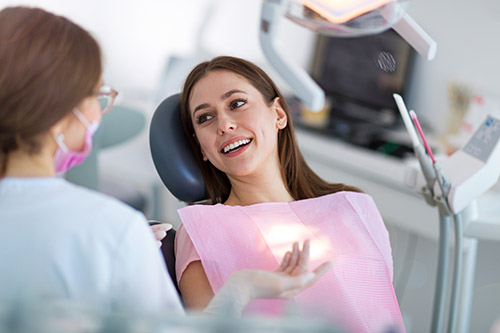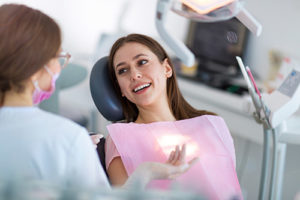 General dentistry is simply the care and cleaning of your teeth, mouth, and gums. General dentistry concentrates more on preventive medicine than it does on specialty services, though Lovett Dental also offers a comprehensive list of specialty services as well.
Your general dentist is typically the primary care provider who oversees your family's oral health. This includes such tasks as:
Educating patients on good oral health habits
Performing regular cleanings
Diagnosing oral issues
Interpreting diagnostic tests
Monitoring the development and growth of teeth and jawbone
Devising treatment plans when needed
These are a few of the routine tasks your Humble, TX general dentist performs on a given day. Without him, your family's teeth would be less bright, less white, and less sparkling. If you're in need of general dentistry in Humble, TX, call on Lovett Dental today.
Do You Need General Dentistry?
Anyone in your family may be treated by your general dentist, although specialists such as pediatric dentists, oral surgeons, or orthodontists may be necessary from time to time. Lovett Dental in Houston offers all of these services together under one convenient practice so you don't have to schedule appointments with various dental providers to solve complicated oral health issues.
Patients from infancy on benefit from good oral health practices and preventive medicine. If you haven't already, contact Lovett Dental today for all your Houston, TX general dentistry needs.
Top Benefits of General Dentistry
Seeing a Humble, TX general dentist on a regular basis is the best way to spot problems early on. When issues such as tooth decay or gum disease are treated early, the result is less pain and less invasive methods needed to intervene. General dentistry in Humble, TX is your family's first line of defense against a number of problems that could affect their oral health. It's your family dentist who will be the first to diagnose issues such as:
Stomatitis
Oral cancer
Oral lichen planus
Candidiasis
These are both common and uncommon oral health conditions that may require the services of specialists upon diagnosis, but it's your family's Houston, TX general dentist who will spot them first, leading to early intervention and more favorable outcomes. If someone in your family isn't seeing a general dentist on a regular basis, contact Lovett Dental today to book an appointment.
Additional Services Provided by Our General Dentistry
Other oral healthcare services fall under the umbrella of what we call general dentistry. These include dental fluoride treatments, the application of sealants, root canals, tooth extractions, night guards, crowns and bridges, and dentures. At any given time, members of your family may require one or more of these services performed by a Humble, TX general dentist, and when that day comes, Lovett Dental stands ready to help.
The Lovett Dental Difference
The dental professionals at Lovett Dental offer the highest quality dental healthcare in the region. With convenient late-day and Saturday office hours, we're here when you need us. Regardless of where you live in the Houston, Beaumont, or Corpus Christie areas, there's a Lovett Dental office near you who's waiting to book your appointment for general dentistry in Humble, TX.
Lovett Dental accepts most forms of insurance and offers convenient payment options to fit every budget, so there's no reason not to take control of your family's dental health today. Call Lovett Dental at 832.990.8865 for all your Houston, TX general dentistry needs.