The way you smile allows everyone in a room to get a sense of your personality. However, a less than perfect smile can cause any individual to shy away and avoid any reason to smile in public. Lovett Dental Humble is here to help you feel more confident in your smile and ensure your oral health is in tip-top shape. Whether you need a dental crown or dental bridge due to a recent trauma or want to improve your smile, we can help you regain your confidence.
What Are Dental Crowns and Bridges?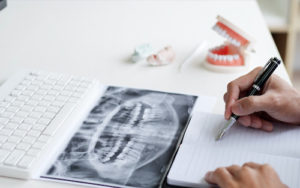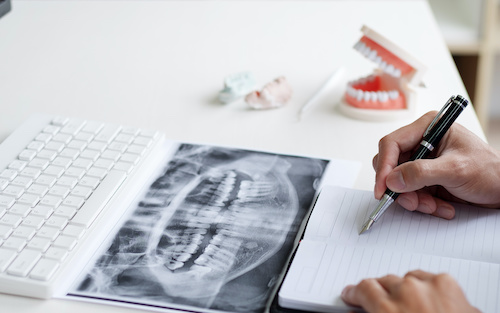 Dental crowns and dental bridges are used to create a seamless smile when the trauma to a tooth is too great to repair other cosmetic dental procedures. Typically, a crown is recommended when a patient has significant damage to one tooth. This damage is typically categorized as a chip or break that has ruptured the tooth to a point where a dental veneer would not have enough surface area to adhere to during the procedure. On the other hand, a dental bridge is recommended when more than one tooth in an area is damaged beyond repair. Whether the damage is caused by trauma or tooth decay, a dental bridge will be placed where two or more teeth have been fully removed.
Both dental crowns and bridges are made of non-staining porcelain. They are engineered to fit your tooth and blend into your natural smile perfectly. Whether your teeth are stark white or slightly off stained from wine, coffee, tea, or cigarettes, the lab that creates your new crown or bridge will perfectly match the color. At the end of the procedure, you will be the only one who knows that you have a prosthetic in your mouth.
Are Crowns and Bridges Painful?
It is perfectly normal to have some fear or anxiety when it comes to getting crowns and bridges. This process can seem intimidating, especially if you are currently experiencing pain from a recent oral injury. Fortunately, the procedure for dental crowns and dental bridges is painless. Your mouth will be fully numbed before any work begins on your mouth. Your dental assistant will double and triple check to ensure you do not feel in the afflicted area. Our compassionate team of dental experts at Lovett Dental Humble will help you feel relaxed and at ease.
If you currently use pain killers for other injuries, be sure to notify your oral surgery team at the beginning. This will ensure your local anesthesia does not wear off before your crown or bridge is fully fixated to your jaw. If, at any point, you begin to feel the numbness wear off, please alert your dental assistant immediately.
Lovett Dental Humble: Dental Crown Specialists
We understand that no one wakes up one day and is excited to undergo oral surgery. This process can be stressful and cause anxiety. We take the time to understand how you feel and make you as comfortable as possible for your oral surgery begins. We will always listen to your concerns at every step of the process. All our dentists at Lovett Dental Humble have been extensively interviewed and hand-selected to be part of our team. You can have peace of mind that the most skilled and highly qualified dentists are completing your dental crown and bridgework.
Whether you would like crowns and bridges for a cosmetic reason or you have an emergency dental concern, please do not hesitate to call us at 281-441-9000 or contact us today. We will work with your schedule for all of your appointments and get you in as early as today if you are experiencing a dental emergency.