Teeth straightening through orthodontics is a valuable investment if you have gaps, odd spaces, or misaligned teeth. Our team at Lovett Dental Humble offers a range of solutions to help with these problems. One of the most innovative options is clear aligners. Clear aligner trays are designed to fit into your mouth comfortably to provide you with the smile you desire. They may be one of the best options for those looking for a long-lasting smile without all of the limitations of traditional braces.
What Are Clear Aligners?
Clear aligner trays are an innovative solution for improving the alignment of teeth. They are designed to slowly adjust the positioning of your teeth into the desired location. Instead of brackets attached to the teeth like traditional braces, this is done using acrylic trays. The tray is designed specifically to fit into your mouth, with adjustments to create a snug fit. It is that snug fit that creates just enough pressure to encourage the teeth to move into proper placement.
Why Use Clear Aligner Trays Over Braces?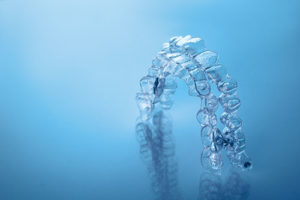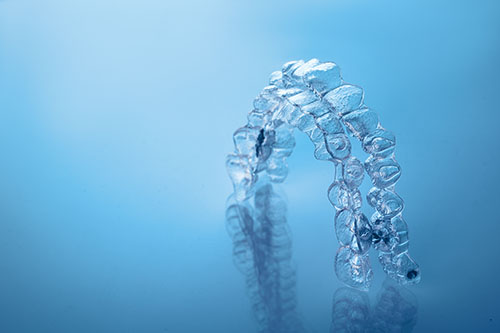 Clear aligners offer many benefits over traditional braces. They can work very well and sometimes even better than braces. Yet, they have a few extra benefits:
Because they are clear, most people will not notice them in your mouth unless you tell them you have them.
You can take them out for short periods of time. That's good for brushing and flossing.
You can eat almost anything with them, unlike with braces that don't allow for some foods.
Clear aligners are very durable and are hard to break.
Some people see faster results using clear aligner trays than using any other type of bracing technology.
Most people say they do not cause any pain or discomfort.
Everyone's experience is a bit different, which is why a formal consultation with you is so essential. Our team will teach you about these products, including how they work. You will get to see what the tray aligners look and feel like, too.
What Is the Process of Getting Clear Aligners?
Our team will provide X-rays and an exam to ensure that your oral structure will benefit from this type of teeth straightening method. Once this is done, we'll start getting digital measurements and insights into the creation of the trays for you. There are a few things to know:
Clear aligner trays are very specifically made for your mouth. They have to be customized to achieve your goals.
Some people may need more advanced solutions to handle complex dental structures.
Every few weeks, you may need new trays created to help with continuing to move your teeth in the right direction.
You'll get to see progress slowly, but generally, it will happen for you.
Clear aligners can only work if you are consistently using them. If you stop using them, they may not be as effective even if you take them out only for a few hours a day.
Our team will provide you with full insight into just how effective this type of teeth straightening solution can be for you. More so, you will receive training on how to use them and get to see some of the results that are possible. Your first step is to reach out to our team to learn more about clear aligner trays may work for your needs.
Learn More About Clear Aligners from Lovett Dental Humble
Clear aligners could be just what you need for teeth straightening. This is a big decision, which is why we recommend coming in for a comprehensive exam and X-rays to get things started. For many clear aligner trays are an available and effective option. To learn more, contact Lovett Dental Humble at 281-441-9000 to schedule an appointment.